Before you purchase new hardware or software through RM3733 why not use Fordway's critical thinking, options analysis and know-how help you to choose the best solution for your organisation?
We deliver reliable, simple and secure IT systems to achieve our customers' long term business needs.
Fordway has over 25 years' experience working across the public sector. Our solutions span government, local authorities, NHS and Blue Light, as well as, universities and higher education.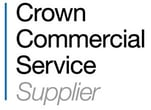 An established Crown Commercial supplier, all of Fordway's cloud services are available through G-Cloud via the Digital Marketplace, our consultancy is available through Digital Outcomes and Specialists and now we are delighted to announce that the following services are available through the new Technology Services 2 Framework RM3804.
Lot 1: Technology strategy and service design
Lot 2: Transition and transformation functions
Lot 3: Operational Services – covering end user service, operational management, technical management and application and data management
Lot 4: Programme and large projects for Official and 'above Official' security classifications.
All four lots draw on Fordway's experience in IT Consulting, Cloud Services and IT Transformation.
---
Latest Public Sector Case Studies